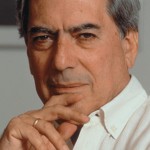 Mario Vargas Llosa wins the 2010 Nobel Prize for literature.
ESSAY BY MARIE ARANA, Oct. 7, 2010
Too often, a Nobel morning has a literary critic running for cover or, at the very least, for Google, to learn exactly who, in the capricious eyes of the Swedish Academy, has merited the coveted award. Not so on Thursday. The 2010 Nobel Prize in Literature has gone to a writer whose name is well known to and widely venerated by the global literary community: the deeply intellectual, undeniably talented Peruvian novelist Mario Vargas Llosa.
Vargas Llosa has been a perennial candidate for the prize, his name raised year after year as an obvious choice since the 1980s. He might easily have won after the brilliant early novels of his career: "The Time of the Hero," "The Green House," "Conversation in the Cathedral," all published before 1975. But as time passed and he continued to produce an impressively versatile body of work — "Aunt Julia and the Scriptwriter," "The Feast of the Goat," "The Bad Girl" — so, too, did hope that he would be recognized by Stockholm. When asked by an editor several years ago why the prize had eluded him, he replied with a wry smile that he was hardly the politically correct choice.
Read Marie's full essay in The Washington Post.