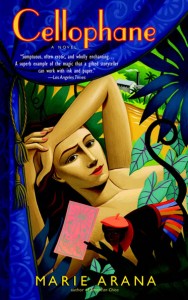 "Sumptuous, often erotic, and wholly enchanting. A superb example of the magic that a gifted storyteller can work with ink and paper." In her stunning fiction debut, Marie Arana has created a rich, boisterous saga about a remarkable family, a wondrous invention, and a powerful collision between science, magic, and faith.
Don Victor Sobrevilla, a lovable, eccentric engineer, always dreamed of founding a paper factory in the heart of the Peruvian rainforest, and at the opening of this highly original novel his dream has come true—until he discovers the recipe of cellophane. In a life already filled with signs and portents, the family dog suddenly begins to cough strangely. A wild little boy turns blue. All at once Don Victor is overwhelmed by memories of his erotic past; his proper wife, Doña Mariana, reveals the shocking truth about her origins; the three Sobrevilla children turn their love lives upside down; the family priest blurts out a long-held secret . . . .
A hilarious, transforming plague of truth has descended on the once well-behaved Sobrevillas, only the beginning of this brilliantly realized, generous-hearted novel. Marie Arana's style, originality, and wit will establish her as one of the most audacious talents in fiction today and Cellophane as one of the most evocative and spirited novels of the year.
Reading guide > • Read an excerpt >
Awards and Honors:
John S. Sargent Sr., First Novel Prize, 2006
A Miami Herald Best Book of the Year
A San Francisco Chronicle Best Book of the Year
A Chicago Tribune Best Book of the Year
A Rocky Mountain News Best Book of the Year
A Christian Science Monitor Best Book of the Year
A Booklist Top 10 Novels of the Year
A Washington Post Best Book of the Year
REVIEWS:
"Arana's writing is both lush and funny. . . . First to last, Cellophane is a tale told with torrential imagination. . . . This is a great book!"—People
"Inventive. . . . Arana unleashes a destructive magic . . . with deadpan comic timing." –New Yorker
"Sumptuous, often erotic, and wholly enchanting. . . . A superb example of the magic that a gifted storyteller can work with ink and paper." —Los Angeles Times
"With a spectacular cast of passionate characters and a plot as lushly complex as the rain forest, Arana tells a bewitching story shaped by a profound understanding of the oneness of life." —Booklist (starred review)
"Eerie and fierce, American Chica stretched the boundaries of biography. . . . In Cellophane, Arana seems to be trying to exorcise that unseen dimension, casting the figures of her memory behind a scrim of feverish color. . . . She has flown above her own history to construct a surreal but orderly pattern: a fiction that's stranger than her truth but shares its bones." —New York Times Book Review
"A tale as bawdy, raucous and dense as the jungle whose presence encroaches on every page." —Publishers Weekly (starred review)
"An exuberant work of fiction. . . . With Cellophane, Arana has crafted a comic, imaginative, and beautifully rendered novel that is unique and inspired." —New York Daily News
"Watch out for Marie Arana; she's making her unique mark in the literary world. . . . All in all, an astounding first novel." —Rocky Mountain News
"I've never been tempted to use the word 'luscious' to describe a work of fiction, but Cellophane . . . strikes me as demanding the adjective." —Washington Times
"Lovers of Latin American fiction will be dazzled by what unfolds in Cellophane. The author creates magical scenes of butterflies fluttering out of hats, plots involving headshrinkers, and peepholes that expose erotic affairs. Arana is equally masterful in her plotting and her language—but even more so in understanding the power of prediction and matters of the human heart." —Philadelphia City Paper
"A brilliant piece of storytelling that combines magical realism in the tradition of writers such as Gabriel García Márquez with comedic looks at human foibles and misunderstandings à la Shakespeare's A Midsummer Night's Dream." —Fort Worth Star-Telegram
"Arana has succeeded in evincing a world of dreams beset with drama, and done so with a light hand, her comedy generous and wry." —Atlanta Journal-Constitution
"Memorable fiction. Whether she's in the role of critic, memoirist or novelist, Arana is a finely tuned writer who knows how to harvest her worlds and bring them to the main stage, an intellectual who delivers insight and story in any genre." —Miami Herald
"Expansive exuberant. . . a humming beehive of a novel. It's a strikingly lovely form of grace that imbues Arana's book." —Baltimore Sun
Dial Press. Hardcover, 2006. ISBN 0-385-33664-0
Paperback, 2007. ISBN 978-0-385-33665-9