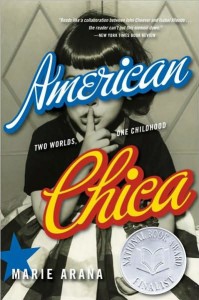 "The top rank of memoir. Arana's writing skills elevate the book to outright lyricism in chapter after chapter."
In the elegance of Marie Arana's American-English prose, one hears the persistent whisper of her father-tongue, Latin-American Spanish. Arana, the daughter of a Peruvian engineer and a North American mother, grew up belonging to both Americas, North and South. The reader is grateful that the daughter of this marriage was such a watchful and listening child, for American Chica transports us far beyond the conventional boundaries of ethnic memoir; with great delicacy, Arana helps us understand why the marriage of the Americas is as difficult as it is inevitable.
National Book Awards, 2001 Nonfiction Finalist
AMERICAN CHICA: Two Worlds, One Childhood
Dial Press. Hardcover, 2001. ISBN 0-385-32962-2
Paperback, 2002. ISBN 0-385-31963-0
Paperback reissue, 2009. ISBN 978-0-385-31963-8
In her father's Peruvian family, Marie Arana was taught to be a proper lady, yet in her mother's North American family she learned to shoot a gun, break a horse, and snap a chicken's neck for dinner. Arana shuttled easily between these deeply cultures for years. But only when she immigrated with her family to the United States did she come to understand that she was a hybrid American whose cultural identity was split in half. Coming to terms with this split is at the heart of this graceful, beautifully realized portrait of a child who "was a north-south collision, a New World fusion. An American chica."
Here are two vastly different landscapes: Peru—earthquake-prone, charged with ghosts of history and mythology—and the sprawling prairie lands of Wyoming. In these rich terrains resides a colorful cast of family members who bring Arana's historia to life . . . her proud grandfather who one day simply stopped coming down the stairs; her dazzling grandmother, "clicking through the house as if she were making her way onstage." But more important are Arana's parents: he a brilliant engineer, she a talented musician. For more than a half a century these two passionate, strong-willed people struggled to overcome the bicultural tensions in their marriage and, finally, to prevail.
Reading guide > • Read an excerpt >
Awards and Honors:
National Book Awards, 2001 Nonfiction Finalist
Books for a Better Life Award, 2001 Best First Book
PEN/Martha Albrand Award for the Art of the Memoir, Finalist
A New York Times Best Book of the Year
A Washington Post Best Book of the Year
A Los Angeles Times Notable Book of the Year
American Library Association Notable Book of the Year
Library Journal, Top Ten Books of the Year
Fort Worth Star Telegram, Top Ten Books of the Year
Philadelphia News, The Best Book of the Year, ranked #1
A San Jose Mercury News Best Book of the Year
Reviews:
"Part history, part family memoir … American Chica reads like a collaboration between John Cheever and Isabel Allende…. One of the many reasons the reader can't put this memoir down is the author's impressive command of her craft…. Arana has left her own imprint on her material, while at the same time displaying virtuosity in the storyteller's traditional gifts: spareness, clarity, and a passion for allegory."—The New York Times Book Review
"Lush, mystical … a memoir that blends family historia and the puzzling deadly politics of Peru."—USA Today
"American Chica is a fascinating blend of autobiography and soap opera, memoir and meditation. … full of larger-than-life characters and stranger-than-fiction situations. … delightful."—The Washington Post
"Arana's intimate and intelligent memoir captures exactly the pulse of a changing America. …Clearly demonstrates her ability to write crystalline prose and make erudite cultural observations."—Library Journal
"The top rank of memoir…Arana's writing skills elevate the book to outright lyricism in chapter after chapter." —The Denver Post
"Eerie and fierce, American Chica stretched the boundaries of biography."
—The New York Times Book Review
"An engaging family history, the book also offers an extraordinarily candid portrait of her parents' unconventional marriage. She turns it into a metaphor for a joining of North and South America."—The Christian Science Monitor Review
"An unusual mix of tone and voice—close and distant, ironic and passionate, deeply spiritual and downright funny . . . seems right out of Joseph Conrad."—The Philadelphia Inquirer
"Reads like a novel . . . tells a fantastical, spellbinding tale."—The Atlantic Monthly
"An engrossing plot, insightful cultural reflections, and well-crafted prose . . . Arana shares the tale of her own family with wisdom and compassion."—The Miami Herald
"A delightful book . . . in the passionate telling, in the clever remarks, in the elegant style. American Chica is a fascinating blend of . . . memoir and meditation."—International Herald Tribune
"Marie Arana blends a journalist's dedication to research with a style that sings with humor."—Publishers Weekly (starred review)
"Within this winning portrait of a bicultural childhood are a host of notable characters. . . . A rich and compelling personal narrative."—Kirkus Reviews (starred review)
"While this book, filled with humor and insight, will be of special interest to Hispanic teens, it is a sparkling addition to the story of America's "salad bowl" and will appeal to young people of all heritages.—School Library Journal
"Arana is like a bridge. She is North. She is South. She is both worlds. She is neither. And for all the . . . dichotomy, her life is richer than most."—The Advocate