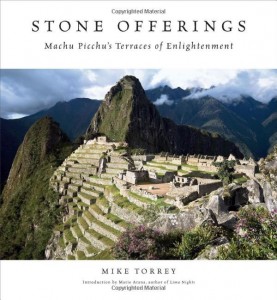 FROM MARIE'S INTRODUCTION:
We humans long to touch the sky. We may be tied to Earth but, as the Inca knew, we seek the sun. We sail the seas, reckoning by stars. We mark our seasons by the moon. We scale tall mountains to reach high ground. We bless those promontories as sacred places. We call them the abodes of gods. Nowhere is this impulse more evident than in the vertiginous heights of the Andean cordillera where, more than five hundred years ago, the Inca pierced the heavens with a might citadel of stone. "Ancient Peak," they called it, Machu Picchu.
Vacant for more than four centuries, this towering fortress survived to become one of the world's great enigmas. After the conquistadors sacked the Inca, after they infected America with a virulent plague of small pox, Machu Picchu was reduced to a hull of its former splendor, overrun by a tropical forest that crept up to lock it in time's embrace. Except for a handful of farmers who planted its lofty terraces, few knew it existed. The site was erased from history. Lost to civilization. Suspended in mist. . . .
"An architectural photographer, Torrey finds that the ancient Incan city "framed the implicit harmony between nature and humans…forming an underlying skeleton that signifies our interconnectedness. " Approximately 120 pages of photographs from the "Ancient Peak," sometimes called the Lost City of the Incas, will captivate armchair adventurers and spur travelers' imagination. What is known of the city's history is related in the introduction: built in the 15th century, abandoned not long after, "lost" for several centuries, and then rediscovered (and plundered) in the 19th century. To capture the city drenched in sunlight and etched in fog, Torrey visited Machu Picchu at the summer and winter solstices. Dazzling views of stone terraces against the green mountainsides reveal the intricate, mortarless construction of each, built from thousands of stones carried and set by hand. Photo captions are spare and far between, but Torrey concludes with a useful long shot labeling the site's points of interest." –Publishers Weekly
"STONE OFFERINGS" WAS AWARDED THE 2010 BEN FRANKLIN PRIZE FOR THE BEST ART BOOK OF THE YEAR.